Published in Hospitality Design on September 04, 2015
Mike Isabella Concepts has opened Pepita, a new Mexican-inspired restaurant in Arlington, Virginia—located across the Potomac River from Washington, DC.
Unveiled this past July, the 1,200-square-foot dining concept's periwinkle and chartreuse interior is a play off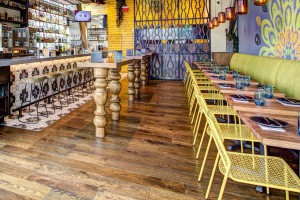 Mexican cantinas and was constructed by locally based general contractor Hospitality Construction Services. Design highlights include porcelain tiles and Douglas fir millwork.
Tequila also inspired the 76-seat Pepita, which features a wall of 100 colorful, translucent bottles and an additional floor-to-ceiling glass wall on the restaurant's left side. Three tall wooden tables create distinction between the bar and adjacent dining area.
Fronted by black and white Mexican-inspired tiling, the bar flanks a row of chartreuse chairs and banquets that complemented by wood flooring. Tables sit beneath large amber glass pendant lights, while banquettes are set flush against a textured periwinkle wall with a centralized flower motif. A booth and outdoor area provide additional seating.