INSIDE KAPNOS TAVERNA
Published In Restaurant Business Online & Written By Sara Rush, Senior Editor on Aug. 13, 2015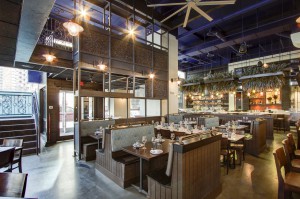 'Value engineering' helped Top Chef's Mike Isabella save $250,000.
"You start with the dream, then you see the budget," says Mike Isabella, chef-owner of Kapnos Taverna in Washington, D.C. For the new Southern Greece-inspired spot, Isabella sought out an architect and contractor who wouldn't hesitate to suggest cuts. "At the end of the day, you want a pretty restaurant, but you can make substitutions where guests won't really notice," Isabella says. The practice is called value engineering. The challenge, says his contractor Rob Mescolotto, is the extra time it takes to research alternate materials. But by making smart swaps, Isabella's design dropped the build from a budgeted $1.5 million to $1.25 million.
Saving on supplies
Mescolotto worked directly with subcontractors to spec the Carrara-marble bar and countertops at half the cost. Isabella passed on a wall of custom-built banquettes, opting for just a few (below). After opening, he added some pricier tabletops for pops of texture—saving by not using the materials across the board.
A matter of materials
Isabella wanted subway tiles for the display kitchen, but because guests sit a few feet away, his contractor was able to use fiber-reinforced plastic. It looks similar, won't discolor and costs 1/100th of the real deal, Mescolotto says. "Tile and wood are two [swaps] where most people can't tell the difference," he says.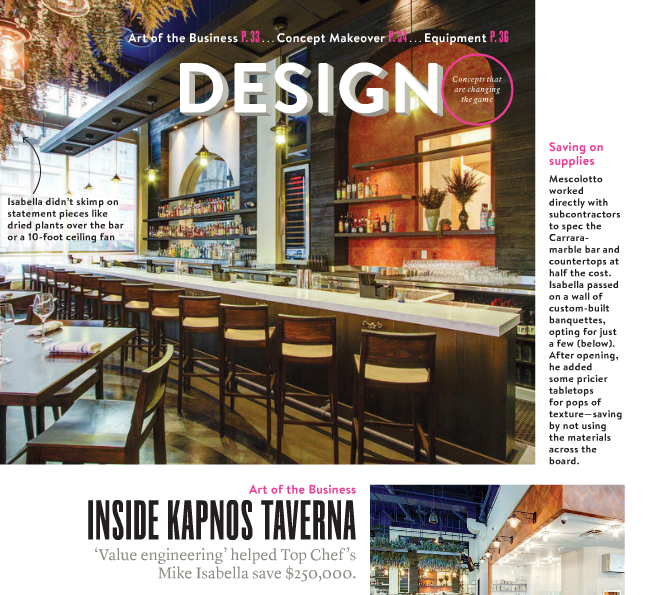 You can read the original article here.