The Italian Store was featured in Interiors & Sources September 2015 issue
For the Italian Store's second location in Falls Church, Va., The Hospitality Construction Services and 2 Scale Interiors teams came up with a design plan the owner couldn't refuse.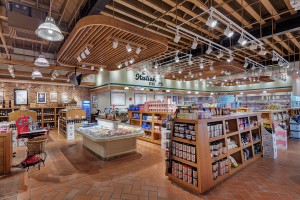 The new space's layout features extensive millwork and a broad material palette the transports guests to old-world Italy. Terra-cotta tile, brick, and Wood tones provide the rustic atmosphere for shoppers. The 6000 square-foot market and café features gourmet Italian products like breads, meats, cheeses, wine, and coffee.
The team had to overcome challenges presented by an original wood ceiling.  The remedy introduced a new wooden trellis that lowered the plane while creating a more natural look. The floors tile work also required improvements; it showcases several intricate patterns that necessitated meticulous division and placement.
It was important for the design to include high-quality materials that brought the firm's vision to life and also fit into the budget. For example, a solid wood trim is featured, but the rest of the interior millwork is Veneer because it offers the same aesthetic with improved cleanability.  A delicate balance of durability and aesthetics was applied throughout.The result is a location that infuses the ancient roots of Italy with modern touches.
[su_button url="http://digital.interiorsandsources.com/interiorsandsources/september_2015?pg=21#pg21″ target="blank" background="#FF6600″]Click here to download the article.[/su_button]