Published from an interview with Rob Mescolotto, owner of Hospitality Construction Services, and written by Jason Q. Freed  in the June 2, 2015 issue of Restaurant Hospitality
Below are some highlights of the article. You can read the full article here… 5 Things You Need To Know About Restaurant Construction Hospitality Construction Services or you can read the article at Restaurant Hospitality.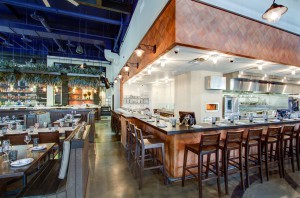 Construction companies do more than build restaurants. The good ones are educated in many different aspects of the industry, from working with architects to analyze the logistics of a space to determining the viability and resourcefulness of different finishings and materials.
We "make people's dreams come true all while maintaining a budget," says Rob Mescolotto, founder and owner of D.C.-based Hospitality Construction Services.
Mescolotto, who's currently building a sushi kitchen and rehabbing a late-1800s building into a brewery, helped outline five aspects of restaurant construction to keep in mind when you're getting ready to build.
Restaurant Construction – 5 Things You Need To Know
1. More renovations, less ground-up
D.C. is an established city and there isn't much space for new construction. So Mescolotto has found himself working on a lot of renovation projects, such as the Mad Fox brewery, where he's pulling apart a building that's already been redone three times and has layer upon layer of finishings.   READ MORE
2. Ensure you stay on budget
One thing restaurateurs understand well is their budget. A good construction company understands that if he can't meet the restaurateur's budget from the beginning, he's already putting the project in jeopardy.  READ MORE
3. How to pick a construction company
First and foremost, a general contractor with knowledge in the area where you wish to build will be a tremendous benefit.   READ MORE
4. Get the right people involved early
While the restaurant owner will dictate the budget and how the money will be spent, it's important to get key constituents such as the chef and bar manager involved in the project early.  READ MORE
5. Pay close attention to dining trends
While they shouldn't derail you from your desired direction, it's important to know what consumers today are looking for in their dining experience. Mescolotto shared several restaurant trends he sees emerging today.  READ MORE
Have questions about restaurant construction? Call us today at (240) 425-3038 or email me at robert@hospitalitygc.com
[gravityform id="1″ name="Contact Us" title="false" description="false"]