From the Washington Post.  By Tom Sietsema May 27
Can't make it to Greece this summer? A more accessible splurge is the seafood tower at Kapnos Taverna in Arlington.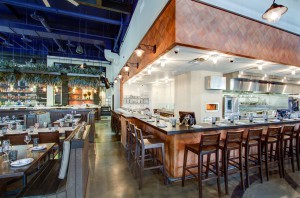 There are many reasons to take the plunge. The bottom tier gathers a ring of pristine raw oysters around poached jumbo shrimp on a bed of crushed ice. Moving up the display are small tins of salmon tartare and marinated octopus, along with sliced Taylor Bay scallops brightened with grapefruit or, if you're lucky, razor clams. (Is there a prettier shell than the cigar-shaped case containing Siliqua patula? I think not.) Waving from the top of the tower are lobster, snow crab and … king crab? Owner Mike Isabella says he's crazy for the crustacean, never mind that it's more Alaskan than Aegean. It's his party, and he'll ply if he wants to. The price of admission is $125, but the monolith can serve six as a snack, four as an appetizer or two as a feast fit for Neptune.
The taverna in Ballston is a spinoff of Kapnos in Washington, and having eaten many times at both, I tag the former as my favorite. The younger, two-story restaurant exudes an expansiveness and freshness I find very appealing, and it comes with a menu whose ingredients originate more from the sea than from sod. Streetsense, the local design firm, whipped up an interior that bridges rusticity with sleekness and gives every diner a pleasant view (of street, of scene, of cooks). For their part, co-owner and
"Top Chef" contestant George Pagonis
and chef de cuisine Greg Basalla make sure the dishes capture the spirit of Greece even as they serve 400 customers some days. You may know the chefs' work. Pagonis opened Kapnos and worked previously for Isabella at the Italian-inspired Graffiato. Basalla comes to Greece by way of Spain — more specifically, the pulsing Boqueria in Dupont Circle.
[su_button url="http://www.washingtonpost.com/lifestyle/magazine/kapnos-taverna-review-why-the-arlington-version-is-better-than-dcs/2015/05/26/a4885ec0-f500-11e4-84a6-6d7c67c50db0_story.html" target="blank"]Read The Entire Article Here[/su_button]